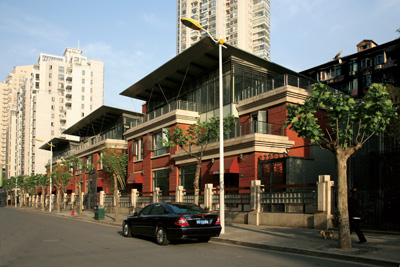 KFS ARCHITECTS INC. CANADA
DGBK was founded in 1972 and has been steadily regarded as one of the leading design firms in Vancouver, and K.F.STONE DESIGN INTERNATIONAL INC was founded in 1998. These two firms have now come together to create KFS Architects Inc. Canada. Our commitment to producing exceptional buildings and lasting design solutions is intrinsic to the way we work; our ability to listen and coalesce the client's needs is what sets us apart from other firms.

Quality of design and functionality are two of the fundamentals of architecture that we value most, since it is our belief that great buildings must inspire the public, while also providing a clear and workable design solution. We have built our practice around this philosophy and with the intent of becoming leaders in specific sectors of architectural design including, Health Care, Education, Recreation and Public Safety.

From the success of our approach, KFS/DGBK has expanded to offices in Shanghai,bringing our skill, expertise and methodology to a variety of new challenges and new regions. The strength of our work speaks for itself but more significantly it is also echoed by the testimony of our clients.


Selected KFS projects in Canada include:
- Britannia Community Centre Master Plan
- Metropolitan Hotel
- Canadian Martyrs Catholic Church
- Surrey Sports + Leisure Complex
- BC Wildlife Park Discovery Centre
- Mondeo Townhomes
- Floating Home – Vancouver
- East Kootenay Regional Hospital
- Kitimat Hospital + Health Centre
- Watson Lake Hospital
- Okanagan Correctional Centre
- Vancouver Police Property + Forensic Storage
- UBC Forest Sciences Centre
- Centre for Advanced Wood Products
- St. Georges Senior School Redevelopment
- Frances Kelsey Senior School
- YVR South Terminal
- Boundary Bay Airport Terminal


Selected KFS projects in China include:
- One Proposal of World Expo 2010, Shanghai Total area 4.5 sq. km
- Central Area in Qing Pu New City(1) Total area 4.52 sq. km
- City Planning of Fengjin Town, Jinshan Shanghai. Total area 5.43 sq.km
- Ai'jian New City, Haerbin Total area 0.93 sq. km
- Botanical Garden,Shanghai Total area 4.05 sq. km
- Central Hotel(P2), Shanghai (5-star) GFA 50 000sq.m
- ZENDAI Hotel & Art Center, Shanghai GFA 90 000 sq.m
- Shanghai Dahua Shopping Centre GFA 270 000sq.m
- Qingpu Yingang Shoppingmall, Shanghai GFA 170 000 sq.m
- International Business+Trade Complex ,Yangpu Shanghai GFA 340 000 sq.m
- Yulong Office Tower, Shanghai GFA 60 000 sq.m
- BEIDA Qingniao Office Tower, Shanghai GFA 50 000sq.m
- Tomorrow Star City, Shanghai GFA 500 000 sq.m
- Spring Garden, Shanghai GFA 160 000 sq.m
- Da An Garden, Shanghai GFA 320 000 sq.m
- Da An Lot 108 Residential GFA 160 000 sq.m
- Dahua Jinxiu Glory City, Shanghai GFA 450 000 sq.m
- Dahua Jinxiu Glory City(Phase 2), Shanghai GFA 610 000 sq.m
- Dahua Wanli Lot 3, Shangha GFA 220 000 sq.m
- Xinmei Taigu City, Shanghai GFA 310 000 sq.m
- Mingjia Garden, Shanghai GFA 280 000 sq.m
- Huangpu Lot 73, Shanghai GFA 120 000 sq.m
- Re-construction of Caohejin old block GFA 130 000 sq.m
- Shanghai International Garden GFA 360 000 sq.m
- Yulong Villas, Shanghai GFA 150 000 sq.m
- Kunshan Sunshine Golf Club and Villas GFA 70 000 sq.m
- Green Island Resort & Garden, Hangzhou GFA 200 000 sq.m
- Dream Home. BC Government. Canada